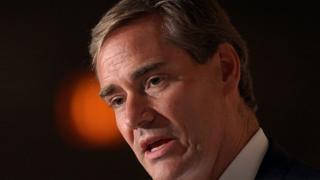 One of Canada's top business leaders has lashed out at US President Donald Trump over the shooting down of an airliner by Iran last week.
Maple Leaf Foods chief executive Michael McCain said his colleague's wife and son were among the 57 Canadians who died.
Without explicitly naming Mr Trump, he suggested "a narcissist in Washington" ultimately caused the air tragedy.
Canadian PM Justin Trudeau has vowed to "pursue justice" with Iran.
In a thread on the company Twitter account, Mr McCain said: "US government leaders unconstrained by checks/balances, concocted an ill-conceived plan to divert focus from political woes."
Mr McCain, whose company employs more than 11,000 people, said the death of his colleague's family members was "the collateral damage of this irresponsible, dangerous, ill-conceived behaviour".
He also criticised US efforts to dismantle the 2015 nuclear deal between world powers and Iran.
A company spokeswoman confirmed the tweets were from Mr McCain, telling Canadian media that the tragedy "warranted his response".
On Saturday, Iran said it "unintentionally" shot down the Ukrainian plane.
The apparent blunder came hours after Iran launched missile strikes on two airbases housing US forces in Iraq in retaliation for a US drone strike that killed Iranian Gen Qasem Soleimani.
At a vigil in Edmonton, Alberta, on Saturday Canada's prime minister called the crash "a tragedy that never should have occurred".
"We will not rest until there are answers," Mr Trudeau told the audience of more than 2,000. "We will not rest until there is justice and accountability."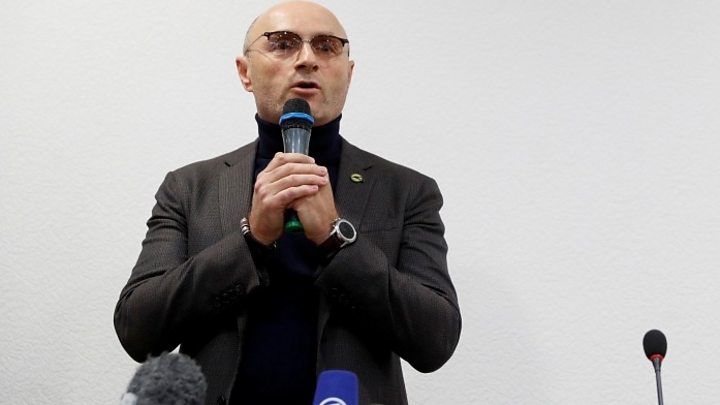 Trudeau blames 'escalation'
Speaking to broadcaster Global News, Mr Trudeau blamed escalating tensions between the US and Iran for the crash.
"If there were no tensions, if there was no escalation recently in the region, those Canadians would be right now home with their families," said Mr Trudeau.
"This is something that happens when you have conflict and war. Innocents bear the brunt of it and it is a reminder why all of us need to work so hard on de-escalation, moving forward to reduce tensions and find a pathway that doesn't involve further conflict and killing," he said.
He told GlobalNews he has spoken to the US president about the crash.
"I have spoken to him and I have talked about the need to de-escalate tensions," he said. "I've talked about the tremendous grief and loss that Canadians are feeling, and the need for clear answers on how this happened and how we're going to make sure it never happens again."
The prime minister said his primary focus was to help the families of the victims repatriate their bodies and to hold Iran account for the deadly crash.
"I am hurt like all Canadians. I am angry like all Canadians," he said. "But unlike many people I have a job to do that will be able to help these families directly. Getting answers for them is my entire focus right now."
Investigation underway
Canada's Foreign Affairs Minister François-Philippe Champagne will head to London, UK on Thursday to host a meeting of the International Coordination and Response Group, which is tasked with looking into the crash and the Iranian-led investigation into the crash.
The coalition was formed three days ago and includes representatives from Canada, Ukraine, Sweden, Afghanistan and the UK.
Meanwhile, officials from the Transportation Safety Board of Canada (TSB) will go to Iran to take part in an investigation into the crash, led by Iran's Aircraft Accident Investigation Bureau. Mr Champagne said the team should be in place in Iran by Monday evening.
TSB chair Kathy Fox said it was unclear how much access the team would have to the investigation process. Ms Fox said the TSB would be limited it what it could say publicly about the investigation, as international protocols give jurisdiction to the country where the crash occurred.
"I want to be clear about this, we do not yet fully know what the scope of our role will be," she said.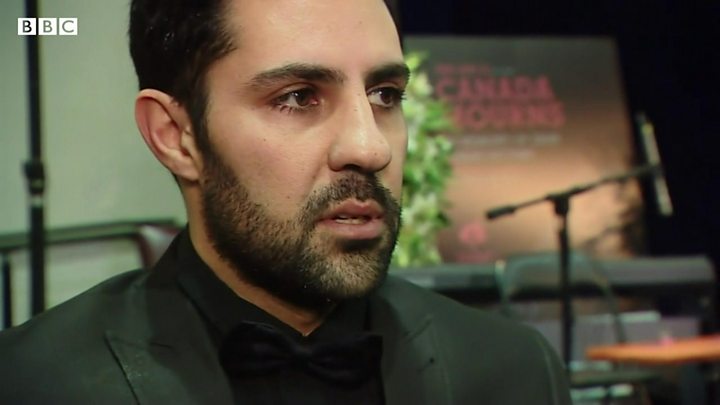 Evolving explanations for drone strike
3 January Qasem Soleimani is killed by a US drone strike; President Trump says the Iranian general was planning an "imminent" attack
5 January General Mark Milley, chairman of the Joint Chiefs of Staff, says the "imminent" attack by Soleimani was "days, weeks" away
9 January Mr Trump tells a rally in Toledo, Ohio, he authorised the strike because "[Soleimani] was looking very seriously at our embassies and not just the embassy in Baghdad"
10 January Mr Trump tells Fox News: "I can reveal I believe it probably would've been four embassies [targeted by Soleimani]."
10 January Members of Congress say they were not told of any threat to embassies during a classified briefing by Trump administration officials
12 January Secretary of Defence Mark Esper says he did not see any specific intelligence "with regard to four embassies" being targeted
13 January Mr Trump says whether there was a threat or not "doesn't really matter because of [Soleimani's] horrible past", but maintains his team believed there was an imminent attack