The Australian Border Force has granted exemptions to allow 49,506 Australians to leave the country since international border restrictions were imposed, while 16,842 applications have been refused.
These figures, which were current as of 17 September, were disclosed during a Senate estimates hearing today.
The ABF commissioner, Michael Outram, was also asked about exemptions granted to inbound arrivals over the same period. He said there had been 19,211 inbound exemptions approved and 10,748 refused.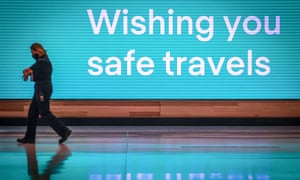 He noted that these inbound exemptions related to visa holders, not Australian citizens or residents, because he did not have any role in approving or preventing Australians from coming back to Australia. (As we've heard in other evidence, however, they may be affected by the caps on international arrivals.)
Labor has used the hearing to pursue its concerns that the government is not doing enough to help the 29,000 stranded Australians who wish to return to Australia.
Outram said the exemptions were not a device to balance other considerations, and so decision makers were "not asked to contemplate what effect that might have on other people".
The secretary of the department, Michael Pezzullo, was pressed as to whether the government had asked it to limit the number of visas approved in order to help manage that flow of traffic:
"No, no – decisions made under the Migration Act are made under the Migration Act independently."
Andrew Kefford, a senior official with the department, said a number of significant investor visas had been marked as exempt from applying for an inbound travel exemption. This meant the visa automatically carried a travel exemption. He said the government had decided to prioritise the significant investor visa as part of the economic recovery. The Labor senator Louise Pratt raised concern about places being granted to investor visa holders "versus a desperate Australian who wants to come home".
Questions about arrangements for returning Australians were referred to the Department of Foreign Affairs and Trade.